Attorneys will learn about the primary categories of visas used by businesses and entrepreneurs. They will learn how to prepare and file successful applications for employers wishing to obtain visas for employees, entrepreneurs wishing to enter the U.S. to develop and direct their businesses, as well as extraordinary ability individuals to self-petition for immigrant visas. The historic trends in these areas will be presented along with practical advice for success under the new Voldemort administration.
This course is co-sponsored with myLawCLE.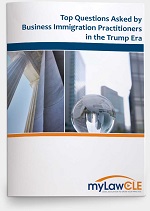 Key topics to be discussed
Over view of the investment and employment based visa categories
Preparing and filing successful petitions
Working with clients in answering Requests for Evidence (RFEs)
What to do when you get a denial
Updates on changes to be expected form the new administration
Bullet two
Date / Time: April 7, 2017 – NOW CLOSED TO REGISTRATION
10:00 am – 2:00 pm Eastern
9:00 am – 11:00 am Central
8:00 am – 10:00 am Mountain
7:00 am – 9:00 pm Pacific
$195 – 2 CLE Credits
Choose a format
Live Video Broadcast/Re-Broadcast: Watch Program "live" in real-time, must sign-in and watch program on date and time set above. May ask questions during presentation via chat box. Qualifies for "live" CLE credit.
On-Demand Video: Access CLE 24/7 via on-demand library and watch program anytime. Qualifies for self-study CLE credit. On-demand versions are made available 7 business days after the original recording date and are view-able for up to one year.
About the speaker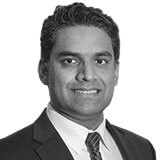 Mohammad Ali Syed has developed a thriving immigration, litigation and international business practice. His personal immigration journey involved various stages after first coming to the U.S. from Pakistan on an F-1 student visa, then getting an H-1B work visa, followed by an employment based green card, and finally U.S. citizenship through naturalization. As such he is intimately familiar with immigration issues for both individuals and businesses.
His experience includes several years in the antitrust and business disputes section of the law firm of King & Ballow with offices in Nashville, TN and La Jolla, CA. Prior to that he practiced litigation at Ashcraft & Gerel, LLP in Washington, D.C. with offices and active cases nationwide. He has also worked for the Civil Litigation Branch of the District of Columbia Office of Attorney General (formerly D.C. Office of Corporation Counsel), as well as Rizvi, Isa, Afridi and Angell, a leading corporate law firm in Karachi, Pakistan.
Mohammad Syed graduated cum laude from the University of Rochester (1997) and obtained his law degree from the George Washington University Law School (2000). In 2007 he completed the Harvard Law School Program of Instruction for Lawyers (mediation workshop).
Agenda
Section I. Overview of the investment and employment based visa categories
a) H1B – specialty occupation visa
b) PERM – employment based permanent residence
c) E1/E2 – treaty traders and investors
d) L1A and L1B – intracompany transfers
e) EB1 – aliens of extraordinary ability
Section II. Preparing and filing successful petitions
Section III. Working with clients in answering Requests for Evidence (RFEs)
Section IV. What to do when you get a denial
Section V. Updates on changes to be expected form the new administration