We provide business advice and legal solutions to both national and international clients from the banking and finance, energy and natural resources, healthcare and pharmaceuticals, music and media, technology and telecommunications and utility sectors.
We provide advice on corporate formations, business sale and purchases, contracts, confidentiality and non-disclosure arrangements, labour law all other corporate matters. We also advise non-profit making entities on operational matters.
We assist with international trade and customs matters including anti-dumping and countervailing duty cases, obtaining rulings on classification, valuation, country of origin marking, developing compliance programs and handling complex penalty cases.
Our partner, Mohammad Ali Syed, has been invited to be part of a team comprising of the International Finance Corporation, the World Bank and the American Bar Association to implement a mediation training program in Pakistan. The goal of this ambitious program is to help Pakistan develop a mechanism to resolve business disputes efficiently and thereby promote investment.
Key contacts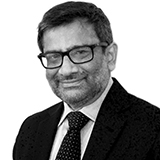 ---