Our team's expansive knowledge includes trial and appellate work in both the state and federal courts. We have experience with the highest levels of appellate courts including the U.S. Supreme Court. When defending claims, we offer strategic solutions for prompt and efficient resolution. When we act offensively for a plaintiff, we seek to recover damages on your behalf.
Before reaching trial, we explore all avenues of alternative dispute resolution with our clients, including mediation and arbitration proceedings, to explore the possibility of a settlement being reached between the parties before litigation becomes necessary or compulsory.
Our clients range from individuals involved in family disputes to pharmaceutical companies in multi-million dollar collections work, as well as foreign companies involved in disputes in the U.S. courts and large electronic discovery projects.
We have litigated cases in the State of New York, the District of Columbia, the Commonwealth of Virginia and the State of Tennessee as well as numerous federal courts around the U.S.
Our staff are admitted to the state bars of New York, District of Columbia, Tennessee, and Virginia, as well as the U.S. District Court for the District of Columbia, U.S. District Court for the Eastern District of New York, U.S. District Court for Middle Tennessee, U.S. Court of Appeals for the Eighth Circuit, U.S. Court of Appeals for the Federal Circuit, the U.S. Court of International Trade and in the country of Pakistan.
Our partner, Mohammad Ali Syed, has been invited to be part of a team comprising of the International Finance Corporation, the World Bank and the American Bar Association to implement a mediation training program in Pakistan. The goal of this ambitious program is to help Pakistan develop a mechanism to resolve business disputes efficiently and thereby promote investment.
Key contacts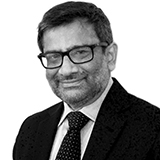 ---