We represent clients in the Superior Courts of Pakistan regarding trade law. As part of our service, we partner up with the International Trade Law Department in order to handle litigation matters and provide clients with the best possible solutions.
Our team have carried out numerous investigations under Pakistan's anti-dumping, countervailing and safeguard laws, structured international business transactions, effectively utilised international trade agreements, availed incentives for exports and protection through tariffs within the allowed parameters of the multilateral trading system. Besides having domestic clients, we also advise a diverse range of foreign clientele comprising manufacturers, exporters, importers (amongst others) on complex issues arising while doing cross-border trade.
We are well versed in the technical procedures applicable to trade remedy investigations (including the NTCL National Tariff Commission) and the opportunities available to exporters and producers under the laws of Pakistan to defend their interests.
We are frequently engaged by exporters from the British Virgin Island, China, Indonesia, the Netherlands, Korea, Oman, Saudi Arabia, Thailand, the UAE, and the Ukraine to pursue an effective defence in various anti-dumping investigations.
Our partner Mazhar Bangash, based in Pakistan, heads the Trade Law Department and is singled out as a highly experienced and a seasoned International Trade Law expert and he has recently been appointed a panelist of the World Trade Organization (the WTO) for trade disputes.
Key contacts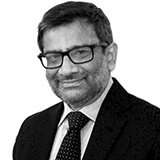 ---