We consider carefully with our clients the respective merits of each party's position, focusing on the real issues in dispute, the risks involved and the suitability of all forms of resolution, be it by way of litigation, arbitration or alternative forms of dispute resolution (ADR) such as mediation or expert determination, thereby keeping your costs in check.
Practice areas
Our arbitration experience includes a range of domestic and international proceedings, and we are also adept at alternative dispute resolution mechanisms, such as mediation and out-of-court settlements.Offering leading experience in both domestic in the UAE as well as international arbitration forums, our team has represented governments, multinational and local corporations in proceedings at the ICC Court of Arbitration, and forums in Brussels and Singapore. The team's experience covers a range of sectors, including construction, energy, insurance and telecommunications.Acting for claimants and respondents in arbitration before the International Chamber of Commerce, London Court of International Arbitration, International Centre for Settlement of Investment Disputes, Singapore International Arbitration Centre, DIFC LCIA Arbitration Centre and Dubai International Arbitration Centre, enforcements of awards, application for stay of proceedings and challenges on jurisdiction, on grounds of bias and on errors of law.

Adamjee Insurance Company Limited: represented client and consortium of insurance companies in arbitration proceedings and successfully negotiated a settlement in respect of one of the largest insurance claims relating to crude oil in Pakistan.
Ghazi-Barotha Contractor: principal Pakistan legal counsel for client in a JV for USD 500m ICC arbitration.
Impregilo SpA: lead Pakistan counsel in the ICSID arbitration initiated by the client against the Government of Pakistan for the settlement of investment disputes.
Pakistan and Sri Lanka: represented countries in the ICC Court of Arbitration in Paris.
Our Firm is a regular presence on sensitive, high-stakes disputes. Our litigation practice has broad experience covering the full range of litigation matters. We handle all forms of civil, commercial and corporate litigation before courts of all levels in Pakistan, the United Kingdom, United States of America and in the Courts of the Dubai International Financial Centre. We are universally recognised by leading legal directories as having a premier litigation department.We have extensive experience in matters such as constitutional petitions, civil suits, corporate disputes, labour litigation, family matters, trade mark appeals, claims by financial institutions, banking suits, rent appeals, income tax appeals and petitions to the Supreme Court of Pakistan by leave to appeal. Our renowned team of litigation specialists works seamlessly with experts in complementary areas of expertise such as our competition, corporate, labour and tax departments to provide clients comprehensive, multi-faceted advice on all stages of the litigation proceedings at hand.Our team of litigation specialists works seamlessly with experts in complementary areas of expertise such as our competition, corporate, labour and tax departments to provide clients comprehensive, multi-faceted advice on all stages of the litigation proceedings at hand. We have handled major commercial disputes involving local and foreign parties in courts across the UK, the US and Pakistan. Specialist areas include commercial contract, insurance, commercial agency and distributorship, corporate, partnership, LLP and joint venture, and corporate insolvency disputes, as well as actions against directors and senior employees.

FABER Industries S.P.A (Italy): represented client, a leading Italian company and manufacturer of gas cylinders.
GlaxoSmithKline: various matters before the High Court of Sindh and a tax matter before the Appellate Tribunal.
IJM Corporation Berhad (Malaysia's leading construction and property development entity): represented client in objections filed by the Karachi Metropolitan Corporation against an arbitration award in the amount of USD 35m- before the Sindh High Court. The award of the arbitrator was upheld in favour of IJM.
Metro Cash and Carry Pakistan (Private) Limited and Makro-Habib Pakistan Limited: represented client with respect to getting the Scheme of Arrangement for reconstruction of the respective companies sanctioned by the Honourable High Court of Sindh.
Pakistan Telecommunication Authority: represented client in a constitutional petition filed against it regarding the illegal issuance of SIMs and the roaming facilities available to Afghani SIMs in Pakistan.
Sindh Engro Coal Mining Corporation: represented client in two matters pending before the High Court of Sindh at Karachi relating to the bidding process of work to be done on an open mine in Thar.
Sinohydro Corporation: represented client in their dispute resolution procedures (ADR) provided in the FIDIC form of international construction contracts before the Engineer/Consultant and Dispute Resolution Board.
Standard Chartered Bank, NIB Crescent Commercial Bank Limited, CALCORP, Union Bank Limited and Union Leasing Limited: represented clients in Banking Courts, High Court and Civil Courts on diverse issues ranging from recovery cases for of outstanding loans/debts, sale of mortgaged property through the court, credit card fraud, cases where damages are being claimed for negligence by the financial institutions.
Key contacts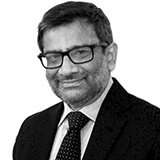 ---