Over the past 30 years' our partners have worked with over 80 different multinational, domestic and Islamic banks and financial institutions (including Citibank, World Bank, IFC, ADB, EXIM Bank and China EXIM Bank). This wealth of knowledge and experience is just one of the benefits of using our banking and finance team.
Practice areas
Acumen Fund: financing projects in Pakistan.
Alinma Bank (Saudi Arabia): facility arrangements of approximately USD 560m to a consortium bidding for an airport expansion project in KSA (pre RIAA Barker Gillette).
Al-Meezan Investment Bank Limited: represented client in the Initial Public Offer of Rs. 270m.
Cisco Systems Finance International (Ireland): proposed USD 4m loan facility by Cisco Systems Capital Corporation to Wateen Telecom (Private) Limited.
Dubai Department of Finance of the Government of Dubai: Syndicated Ijarah Facility of up to USD 600m (pre RIAA Barker Gillette).
Emirates Bank International PJSC restructuring of AED 400m Syndicated Loan Facility (pre RIAA Barker Gillette).
Export Banque (Paris): financing facility to a local telecommunication company.
ICI Pakistan Limited: Rs.1b term finance certificates issued by client.
KfW and KfW IPEX-Bank GmbH: USD 120m ship finance facilities (pre RIAA Barker Gillette).
Overseas Private Investment Corporation: USD 10m credit facility to Tameer Micro Finance Bank Limited and in relation to finance worth USD 9.89m provided to SSJD Bio-Energy Limited for a 12 MW power plant project based in Sindh, Pakistan.
Sponsors of the City of Arabia and Mall of Arabia projects in Dubai in relation to AED 1.35b Syndicated Islamic Facility.
The Carlyle Group and other global private equity firms and industry groups (including US Private Equity Growth Capital Council and British Private Equity and Venture Capital Association): in connection with the Investment Funds and Investment Management Regulations issued by ESCA (pre RIAA Barker Gillette).
The Carlyle Group: establishment of Carlyle MENA Investment Advisors Limited and related entities (pre RIAA Barker Gillette).
United Bank Limited: Habib Bank Limited and National Bank of Pakistan, represented the consortium in the USD 70m Murabaha financing of Pakistan International Airlines for the acquisition of aircraft.
Key contacts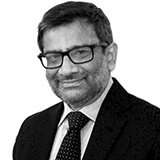 ---